Hello, friends. It's been a while. This week I've been injecting new life into projects that have been overcome by inertia, so it's only fitting that I update this bliggity blog, too. After all, Darren and I got married three months ago, on Saturday, February 26, 2011 here in Jackson, Mississippi. So it's about time.
On the Saturday before the wedding, my sister and Matron of Honor, Gill, arrived in Jackson to help Darren and me take care of last-minute preparations. We did our hair and makeup trials together, ran errands to the tailor and the caterer/florist, and checked a few dozen items off the last-minute to-do list. I couldn't have been more grateful to have her there to talk me down when the stress started rising.
One of my favorite pre-wedding tasks was making table assignments. I taped four sheets of 11 x 17 paper together and drew 15 round tables on them. Then I printed out the names of all the guests on tiny strips of paper, and Gill and I began arranging them where we thought they belonged. It felt like a game, anticipating which groups of friends would have the most in common with each other, and which single people we could seat together in hopes of a love connection. If I do say so myself, I think we did an excellent job.
Bachelor/Bachelorette Party
The wedding party came into town by Thursday night for the joint bachelor/bachelorette party. I had made it clear to Darren when we started planning the wedding that I would be pretty upset if any kind of skeeziness were part of his bachelor party. To me, the "Lust after other women before you're shackled to just one forever" idea at the core of traditional bachelor parties would conflict with the idea that we were committing each other because we both wanted to. Also, the other guys attending the bachelor party all had wives and girlfriends, none of whom wanted their men all up on some other ladies. After pushing back a little, Darren shrugged and agreed. He seemed more concerned about  disappointing his friends than missing out on the experience himself.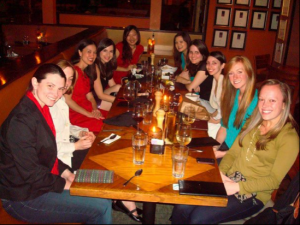 The ladies enjoyed an elegant meal at Bravo! restaurant.
Katie and I have been friends since we were 13 years old. Now we're all growns up!
So we did a separate girls' dinner (at a classy Italian restaurant) and guys' dinner (at a steakhouse) and met up at the Irish pub near our house afterward. Toward the end of the meal, the skies opened up and it poured. I will never forget watching Gill and my dear friend Jamie, who had both volunteered to drive that night, dash out into the dark, rainy parking lot without umbrellas to bring their cars around for the rest of us. That's love.
When the girls and I showed up at Fenian's Pub, the guys were already there and feelin' no pain. Right away, it felt great to have a party all together, sans secrets or sleaze. And thanks to a guy named Ronnie who just happened to be at the pub that night, we had the best time ever. Ronnie (whom most of us called Shy Ronnie, the character from a SNL Digital Short) kept buying us round after round. I think he deserves an award for his philanthropy.
Shy Ronnie is a saint for treating the whole group to drinks.
Brian was a groomsman and Gill was Matron of Honor.
Darren's brothers, Greg and Jeff, and their lovely ladies, Meghan and Julie, are most awesome.
The Day Before the Wedding
The next morning Darren and I had scheduled a 10 a.m. coffee date to introduce our parents to each other, so we dragged ourselves out of bed and drove downtown to the cafe in the King Edward Hotel. We knew that our parents would like each other, and they did. As they chatted in one of the lobby's seating areas, Darren and I fueled up on coffee — it would be a long day — and jumped up to greet the guests who happened to be arriving at the hotel at that time. It was a uniquely awesome feeling to have people from all different periods of my life walk through the door unexpectedly.
Darren and I had chosen Two Sisters Kitchen as our Friday lunch spot so we could introduce non-Southerners to a buffet that included fried chicken, cornbread, collard greens, and sweet tea. It was a big hit, both because of the incredible food and because of the charming location in an old, two-story Southern style house with a porch and rocking chairs.
After lunch, the guys went off to run errands, and the ladies went to get mani-pedis. I'd chosen Magnolia College of Cosmetology because a) there were enough stations to accommodate eight women, and b) it was reasonably priced enough for me to treat my bridal party to a little pampering. While it didn't have the ambiance of a high-end salon, it was plenty comfortable, and the students did an excellent job with our nails.
The Rehearsal and Rehearsal Dinner
Friday night was the rehearsal at the train station. The ministers, David and Debo Dykes, were sweet enough to help set up the folding chairs to create an aisle big enough for both my parents to escort me. As I walked up the aisle during the trial run, my arms linked with my parents, several of my bridesmaids started tearing up, which set me off, too. "If I'm crying now, I'm going to be a mess tomorrow," someone said.
My own tears would flow freely later that night, at our rehearsal dinner at Pan-Asia. The owner had warned me that squeezing 47 people into a room meant for 40 would be tight, and when I saw how crowded the room was, I felt terrible. The tables were packed in so tightly that the guests could barely pull their chairs back to stand up. On the way to the buffet for appetizers, people were bumping into each other left and right.
I tried to soothe my nerves by drinking wine and eating eggrolls, but I ended up spilling orange sauce on my ivory chiffon dress. That pushed me over the edge, and I felt tears welling up. All of the stress and lack of sleep surrounding the wedding, and all the emotion of tending to my guests, came to a head — and I power-walked to the bathroom to have a good cry. Although I felt like an angsty teenager as I sobbed in the stall for ten minutes, I felt a little relieved that my meltdown was happening before the wedding day. I hoped that I was just getting it out of the way.
This picture makes me laugh because it looks like my friend Chuck, who happened to be seated next to my family, is my groom-to-be.
When I finally pulled myself together and came back to my table, I had an idea: Why not ask the staff to serve the meal family style instead of buffet style? They agreed, and once guests were passing heaping plates of drunken noodles and broccoli beef down the table, all was well. Everyone had plenty to eat and drink, and several people reassured me that being in cozy quarters helped them get to know some new folks.
After dinner, everyone headed back to the King Edward Hotel in downtown Jackson. Darren and I greeted our guests who had arrived that night and were chatting in the lobby, then retired to our respective suites to rest up for the big day.
Tags: bachelorette party · catering · florist · rehearsal · stress · tailor4 Comments