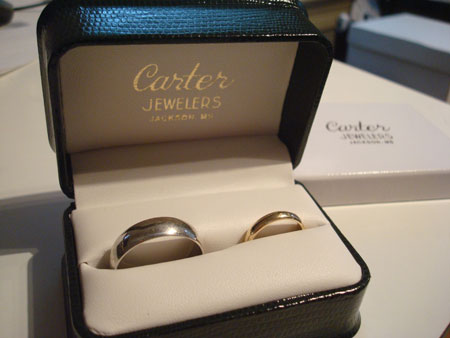 When we first got engaged, Darren and I had hoped to make our own wedding rings like my sister and brother-in-law did for their wedding. They did the most awesome Wedding Ring Workshop, a one-day private class with a jeweler who guided them through the step-by-step process of welding, shaping, and polishing precious metals. Darren and I had thought about scheduling a wedding ring workshop in the Bay Area when we visited last summer, driving six hours to Atlanta to do it.
Unfortunately, when I called the very nice British gentleman who's in charge of workshops around the country, he told me that it would cost just under $1,000 to do the workshop. The price fluctuates with the value of precious metals, and at the moment it was too high for Darren's and my modest budget.
We checked out Etsy.com, which features many different types of artisan-made wedding rings at reasonable prices. I was partial to the gold wedding ring sets, and Darren liked the titanium rings. Ultimately, however, we decided to try on the rings that we'd be wearing for the rest of our lives, so we went into a brick-and-mortar jewelry store here in Jackson. We liked the idea of supporting a local business, as well.
Carter Jewelers worked well for us, because it's close to where we live and offers an amazing deal through a site called Half-Off Depot. We paid $50 per voucher for $100 value; according to the website, we could have used up to 10 vouchers, but we didn't need that many.
On top of its standing Half-Off Depot deal, Carter was having a storewide New Year's sale, so each of our rings was 50 percent off. Several of the Carter staff were unfriendly, especially about using the vouchers (I felt like Julia Roberts going clothes shopping in "Pretty Woman") but Darren and I got such a great deal that we brushed off the unpleasantness.
Darren chose silver for his ring, and I chose yellow gold to match my engagement ring. It was more important to us to choose something that we'd each enjoy wearing than to match the rings exactly.
The smallest 3mm gold ring that Carter had was size 7 and a half, several sizes bigger than I wear, so the jeweler said she'd size it down. She used a device shaped like a giant finger to measure my engagement ring.  I asked her to size the wedding ring accordingly, which seemed to make sense. The engagement ring fit perfectly, so why wouldn't the wedding ring?
Well, it didn't. I had to push the newly sized wedding ring down hard over my joint, but I kept at it because I always had to do the same with my engagement ring. Bad idea. When the wedding ring hit the base of my finger, it wouldn't come off again.
"Come over here," said the jeweler. "I've got a trick to get that off pretty easily." She brought out a bottle of Windex from behind the counter and sprayed my hand, mentioning something about the ammonia it contains.
The Windex made me smile a little as I thought of the Greek dad in "My Big Fat Greek Wedding." But it didn't work.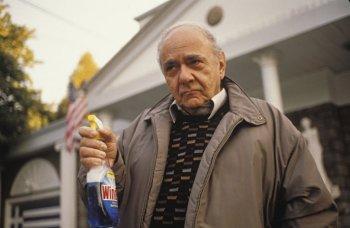 "I don't understand," I told the jeweler. "My engagement ring is the same size, and it doesn't get stuck like this."
"Your wedding ring is 1mm bigger than the engagement ring," she said. "That affects the tightness on the finger."
It would have been helpful if she'd shared this with me before sizing the ring so small.
"It'll come off," the jeweler reassured me. "Go home and let your hand rest, because your finger is swollen now. You can come back and I'll resize it, no problem."
That night I Googled "how to remove a stuck ring" and tried cold water to shrink the finger, olive oil to lubricate it, and Windex for whatever the heck it's supposed to do. Still the ring wouldn't move past the fleshy part before the joint. I repeated this twice the next day, to the point where my finger had a red abrasion on it and I was afraid of dislocating it. I was near tears and was almost ready to go back to Carter and ask the jeweler to cut the thing off (the ring, not the finger).
"Well, I guess our eternal bond starts now," I said to Darren, only half-joking. He was sweet enough to wear his own ring in solidarity.
On the third day, I finally decided to a technique recommended by WikiHow: winding a long strand of dental floss under the ring and tightly up the finger, then pulling the strand from the bottom up so the ring moves up the bound area. Darren helped. I had one moment of panic when the length of floss ran out right before the ring went over my joint, but I gave one final tug…and was finally free.
Now that the swelling of my finger has gone down, I'll be heading back to Carter to get the ring increased by at least half a size.
On the outline for the wedding ceremony, right before the exchanging of the rings, the officiants have written, "Words are offered to note the importance of these rings as a 'binding' symbol for Melia and Darren."
Let's hope that by the wedding day, the rings won't be literally binding, too.
On the upside, the rings looked beautiful on Darren's hand and mine, and getting to wear them for a few days made me a little giddy. In less than two months, we'll be wearing them for real!