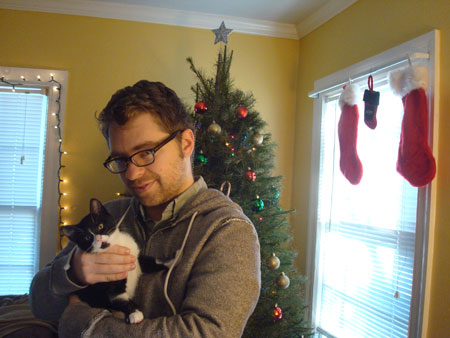 Last year marked the first time I spent Christmas away from home in 29 years. Instead of convening in Sonoma, California, where I grew up, my family met in Kailua, Hawaii. My sister, Gill, was living there with her husband, Brian, who is in the Navy.
This year will be the first Christmas that I don't spend with my family, because Gill and Brian have moved to Naples, Italy (lucky ducks), and it would have cost over $1,000 for Darren and me to fly to California to see my parents. We're saving for the wedding and the honeymoon, so it's just not doable this time around.
Last year I didn't feel homesick because Christmas felt like a tropical vacation with my family. This year I do, because although I'm surrounded by the wintry trappings of Christmas, they feel…different.
I miss my family's traditions: Driving to Petaluma shoulder to shoulder in my dad's green truck to cut down our own Christmas tree, then decorating it together with Bing Crosby and New Kids on the Block playing on cassette tape. Lighting the Advent candles at the dinner table every Sunday and giggling at the Bible reading that says, "And Jesus leapt in Mary's womb." Hanging stockings by the fireplace. Helping my mom make her grandmother's Butter Dream cookies and eating one every time I walk by the cookie tin.
As the holidays approached, Darren was sweet to realize that I was missing these traditions, so together we made a point of creating our own. We went to the High Street farmer's market and picked out a great-smelling, 7′ 8″ Douglas fir tree, which the salesmen carefully tied to the roof of my Jetta. At Walgreens, we filled a shopping cart full of lights and ornaments and red felt stockings, and a sparkly star for the stop of the tree. Darren even let me buy an ornament of a bichon frisé to represent our imaginary purse dog, Mr. Prancywaggles. He's playing with a baseball, so he's manly, right? (wink)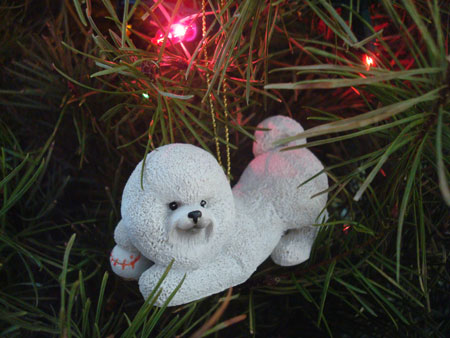 After we laboriously dragged the tree into the house and bolted it into the stand, I downloaded the "Glee" Christmas album and the "Elf" soundtrack and sang along as we decorated. Later, I made gingerbread cookies with buttercream icing, rocky road with homemade marshmallows, and saltine toffee. None of the music or the treats has been part of the Schwindaman or Dicker family traditions. But if we like them, we'll make them part of the Schwindickerman family tradition.
The holidays still feel different to me. But they're starting to feel more comfortable.
I'm not yet sure what Christmas Eve and Christmas Day will hold, but I'm grateful that Darren's mom and dad each live nearby, and that his brothers will be coming into town to celebrate the holidays. That way, even though Darren and I are still figuring out what our own Christmas traditions will be, we'll have his family traditions to make us feel at home.
Tags: Christmas · decorating · holidays · home · music · nostalgia · travel4 Comments