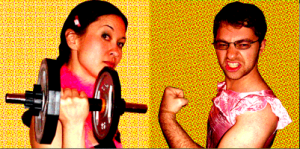 Fortunately for Darren and me, we generally agree on how to spend our free time together. We have friends over for regular potluck dinners, travel to places near and far, go to music and art events around town, and customize our living spaces to suit our needs. We also watch an embarrassing amount of TV, having a regular lineup of shows that range from the educational ("Master Chef") to the entertaining ("Fringe").
There's also the TV that we tolerate for each other's sake: Darren watches "Grey's Anatomy" for my benefit, and I'll occasionally watch "Sons of Anarchy" because he loves it so much. Marriage expert John Gottman calls this practice "accepting your partner's influence" and holds it as one of The Seven Principles for Making Marriage Work
. In successful relationships, people take their partner's opinions and feelings into account before making decisions, and they're open to one another's interests.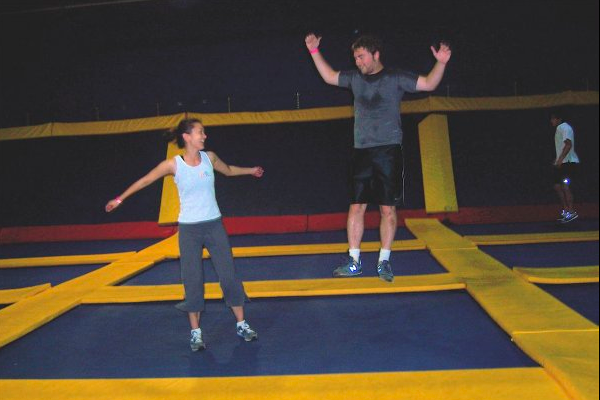 Darren and I apply this principle regularly and intentionally, doing our best to get excited about something the other person is excited about. Darren matters to me, so I respect what matters to him. When possible, we ease the burden on each other: He talks fantasy baseball with his brothers, and I talk relationships with my girlfriends; he goes to see superhero movies with his guy friends and I see romantic comedies with my girls. Sometimes, though, we have to make little sacrifices for each other, and this past weekend was one of those times.
The Schwinda-men (Darren, his brothers, and his dad) are super-fans of the Atlanta Braves, and it's a summertime tradition for them to convene in the ATL for "Braves weekend." Last year Darren's younger brothers, Greg and Jeff, brought their girlfriends, Meghan and Julie, but I couldn't go because of a work commitment. This year, I was glad that I'd be available.
"Which day are we going to the Braves game?" I asked Darren.
"Friday, Saturday, and Sunday," he said.
It was only then that I grasped the full meaning of "Braves weekend."
I don't hate baseball, but I don't love it, either. I'm pretty lukewarm about all spectator sports; there are probably 20 activities that I'd prefer to do than watch them. So naturally, I wasn't crazy about driving six hours each way to Atlanta and spending a full weekend watching three games in the Southern heat. On the other hand, I wanted to see the family — Meghan and Julie, who are awesome, are most certainly included in "family" — and I was looking forward to shopping at Trader Joe's and IKEA, neither of which we have anywhere near Jackson. The investment of time and energy were sacrifices that I was prepared to make.
My outlook brightened when I decided to buy tickets for the NKOTBSB concert in Memphis, which happened to fall on the day after Braves weekend. NKOTBSB is the ingenious combination of New Kids on the Block and Backstreet Boys, 90's boy bands that have reunited and are touring together this summer. It's a boy band extravaganza.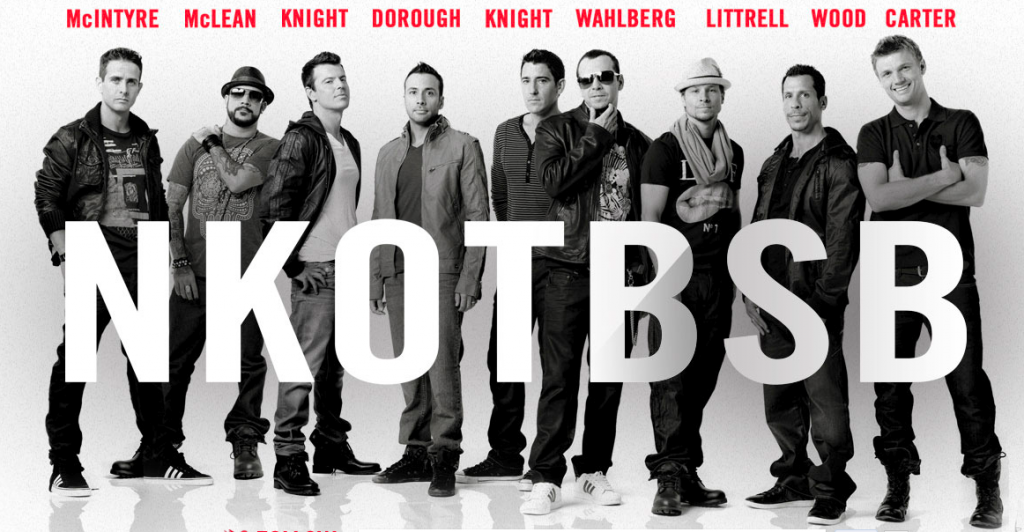 Darren smiled when he saw how over-the-moon excited I was about the concert. "Who are you going with?" he asked.
I smiled back at him. "You, of course!"
The look on his face was priceless. "Ohhhhhh!" he said with mock excitement. He knew that I'd go with a girlfriend if I could, but no one I knew in Jackson was a big enough NKOTBSB fan to drive three and a half hours to see the show on a Monday night. Being the good sport he is, he agreed to be my date.
And so it was settled. I would go Braves weekend for Darren, and he would go to the NKOTBSB concert for me.
The trek to Atlanta wasn't bad. Darren's dad drove, and he and Darren chatted and listened to the radio while I sat in the back seat and finished reading "The Happiness Project." We drove straight to the evening game at Turner Field, which meant by the time it ended around 11 pm, I was falling asleep in the bleachers. The next day's game, which began at 4 pm, paused in the middle of the fifth inning due to heavy storms. We waited under an overhang for two hours for the game to resume, and once it did, it went into extra innings. Darren calls this "free baseball." I call it "someone better freaking score so we can go home already."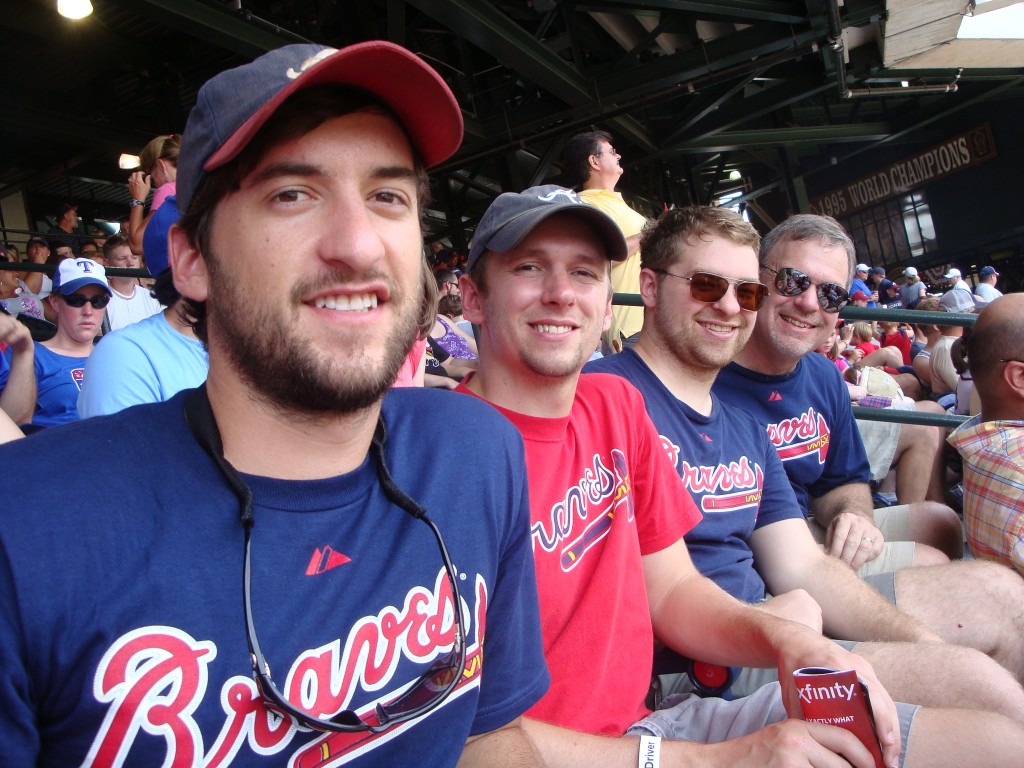 The Schwinda-men: Jeff, Greg, Darren, & Dale

The ladies: Meghan, Julie, and me
For me, the best part about the weekend was hanging out with Darren's family. He and his brothers rag on each other constantly and turn everything into a competition, which makes everyone laugh uncontrollably. On Sunday, the girls and I sat together, which made the game fly by. We talked about our plans for the summer and joked about how 2nd baseman Dan Uggla is, unfortunately, kind of uggla. The game ended around 5 pm, and the drive back to Atlanta was the most brutal part of the whole event. When Darren and I finally arrived in Jackson close to 11 pm, I fell into bed.
Darren and I spent the next morning working hard so we could leave again that afternoon for Memphis. We arrived in time to check into our hotel and eat dinner at a classy restaurant, Flight. It was as close as I'd ever come to eating in my dream restaurant, The Sampler Platter, in which every item on the menu is a sampler. Flight offers amazing three-item flights for each course and allows you to mix and match them. The Elvis was one of the best desserts I've ever had: petite French toast triangles, peanut butter fluff, and warm bourbon banana sauce. Whether or not Darren would enjoy the concert, the meal alone had clearly made the trip worthwhile for both of us.
We walked from the hotel to the FedEx Forum on Beale Street and were greeted by several thousand chattering, squealing women between the ages of 20 and 50. Some had dressed in outstanding 80's and early 90's outfits: crimped hair, fluorescent oversized t-shirts, and bright leggings. I had briefly entertained the idea of dressing up in baggy overalls and a sideways cap splattered with puff paint, but I didn't want to embarrass Darren any more than I already would be by bringing him to see two 90's boy bands.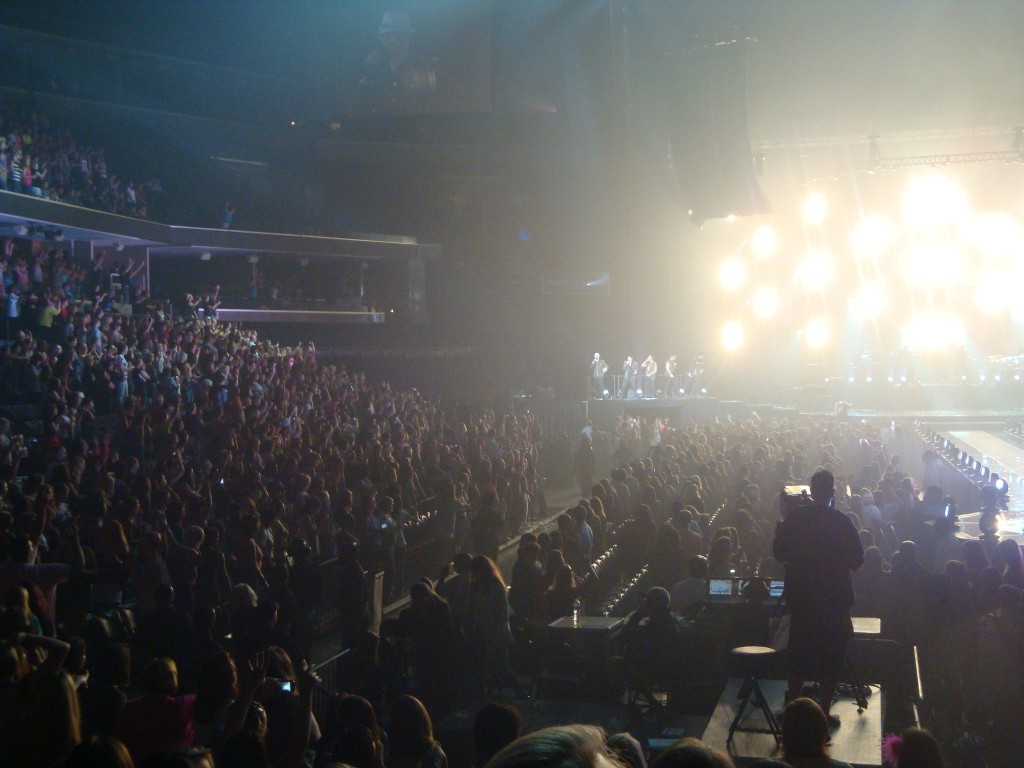 Because the concert hadn't sold out, we were relocated from the cheapest nosebleed seats to two sections above the floor, which gave us a close view of the catwalk that extended out into the audience. The arena went dark as the show began, and the big screens around the venue lit up with a flashy video introduction to each member of NKOTBSB. The crowd screamed, and Darren and I popped in the earplugs that I happened to have in my purse. Among puffs of smoke and colorful beams of light, the curtain came up slowly, revealing nine silhouettes standing onstage. As the lights came up during the opening number, a cover of Colplay's "Viva La Vida," I saw Joey, Jordan, Jon, Danny, and Donnie and screamed like the 10-year-old I was when I first discovered the New Kids. I cheered for the Backstreet Boys, too, even though I know their hits better than I know them as performers. "I Want It That Way" is a go-to karaoke song of mine, but I wouldn't recognize A.J. or Howie walking down the street.
The "New Kids dance" during "(You Got It) The Right Stuff"
The boys put on a great show, full of choreographed dancing and crowd participation. The rest of the audience and I waved one hand in the air during "Hangin' Tough," and when Jordan prompted us, "Step One," we sang back, "We can have lots of fun." During the concert, I glanced at Darren regularly to see how he was doing. He seemed to be enjoying the show about as much as I'd enjoyed the Braves games: he was moderately engaged, with wandering attention. He clapped a bit after each song but didn't cheer, and I caught him checking his fantasy baseball score on his phone a few times. At one point, the New Kids joked about how few guys there were in the audience and pointed the spotlight onto one guy they dubbed their "Cover Boy." (Fans will get the reference to the song "Cover Girl.")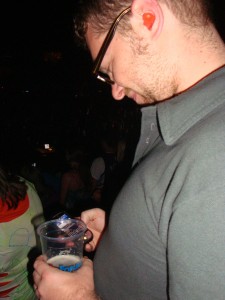 Earplugs, beer, and fantasy baseball make the NKOTBSB show bearable for Darren.
Joey McIntyre points out the "Cover Boy" in the audience
Toward the end of the two-hour show, Brian from Backstreet called out, "Who's having fun?" ("WOOOOO!" the crowd answered.) "Who's ready to go home?" ("BOOOOO!" yelled the crowd.) I said to myself, "I kinda am." My feet hurt from standing in my flats, and my 11 pm bedtime was creeping up. I no longer had the energy of a 10-year-old. Luckily, the show ended shortly with a high-energy mashup of "Hangin' Tough" and "Everybody (Backstreet's Back)," confetti flying, lights flashing, and smoke shooting up from the catwalk. The show was everything I'd hoped it would be: a nostalgic greatest hits spectacle all in good fun. And Joey McIntyre is still dreamy.
The best part of the concert and the Braves weekend was the opportunity for Darren and me demonstrate the little sacrifices we're willing to make for each other's happiness. There will be other Braves weekends, and there will be other concerts (Taylor Swift is coming to Memphis in October!). If we're able to keep accepting each other's influence with a smile, I know that our future together will be bright.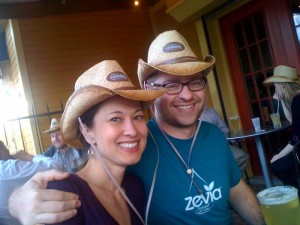 Tags: 1 Comment