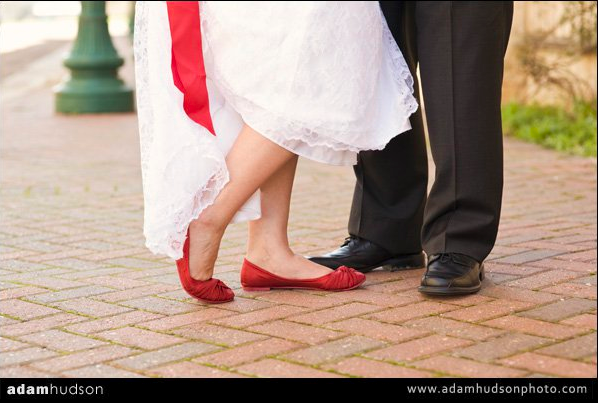 I woke up on my wedding day feeling surprisingly calm. The clock read 7:05 am, which meant I had 40 minutes before my hairstylist and makeup artist knocked on the door of my suite at the King Edward Hotel. I freshened up and tidied the suite, which was awesomely large. It had a spacious living room area with a desk and an adjacent bathroom. Through a doorway was the bedroom and master bathroom. I'd been looking forward to spending the morning getting pretty with my seven bridesmaids, who would be arriving at 8 am to have their hair and makeup done.
The hairstylist, David Browman, and his raven-haired assistant, Antoinique arrived. She looked so much like a runway model that I was intimidated by her, but she turned out to be soft-spoken and kind. David and Antoinique lugged their extensive gear into the small bathroom, where they began plugging in hot rollers and filling the counters with bobby pins and bottles of hairspray. Crystal Tullos, the makeup artist, arrived, and I helped her set up in the master bathroom.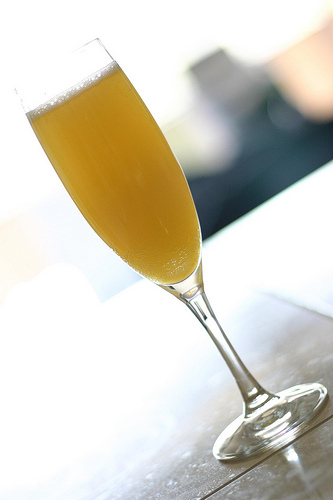 Gill was next to show up, bearing gifts of coffee. "The boys are getting bagels and orange juice," she said. Before her own wedding, her bridal party had sipped mimosas in her suite while getting our hair and makeup done, and I'd learned that mimosas are the secret ingredient to a happy wedding day. Several bottles of champagne, courtesy of Gill's husband, Brian, were already chilling in the mini-fridge. Brian, a lieutenant in the Navy and one of Darren's groomsmen, was exactly the kind of leader we needed during wedding madness. He spent the morning delegating tasks to the guys and running errands himself to keep the event running smoothly.
I propped open the door of my suite as my bridesmaids began to arrive, all wearing button-down shirts so they wouldn't mess up their hair when they changed into their dresses later. They hugged me and squealed, "How do you feel?" I told them I felt really good, slightly jittery about the event itself, but excited about the getting married part. It felt wonderful to have my closest girlfriends surrounding me, sitting on the couch chattering with each other and flipping through the Real Simple and Oprah magazines that I'd left out for them.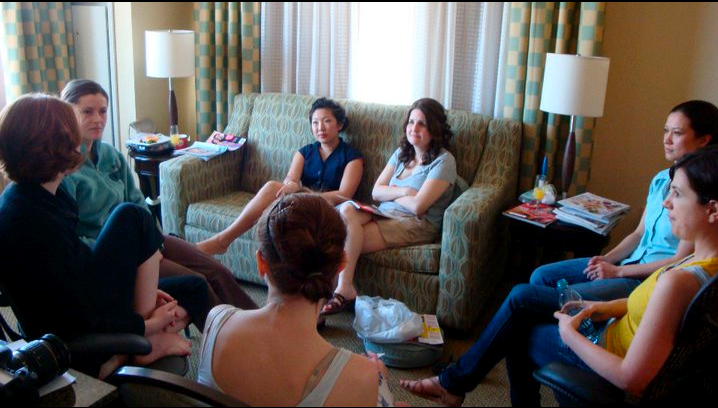 The hair and makeup extravaganza began. As much as I usually don't like to be told what to do, I make exceptions for hair and makeup. I wasn't a girl who grew up painting her face with her mom's makeup, because my mom hardly wore any. I'm 30 and still barely know how to use eyeliner, much less create those "smoky eyes" that Cosmo is always raving about. For reasons half practical, half lazy, I pull my hair into a ponytail instead of investing any time into styling it. It's thick and takes ages to blow dry.
Given my total lack of beauty school skills, I was glad that David, in the sassy manner only a gay stylist can pull off, nixed the hairstyle I had in mind for the wedding. I'd sent him a photo of my go-to up-do: curls pinned on top of my head, with a couple of ringlets loose around my face. "It's kind of dated," he said. I thought for a minute and realized that I'd first gotten this hairstyle before my Homecoming dance in 1995 and had stuck with it ever since. Touché. "I'm thinking more of a soft Taylor Swift look, with curls loosely gathered at the nape of your neck," David said. He'd said the magic words. I love me some Tay Swift. I let him do his job.
After sitting for David and Antoinique and then for Crystal, I had Taylor Swift hair and red lips and was ready to put on my dress. Gill helped me into it, and my photographers, Adam and Allison Hudson — who had arrived around noon — took pictures of Gill zipping me into my snug strapless dress and fastening the clasp of my necklace. I loved that my sister was helping me get ready, as I'd helped her two years before.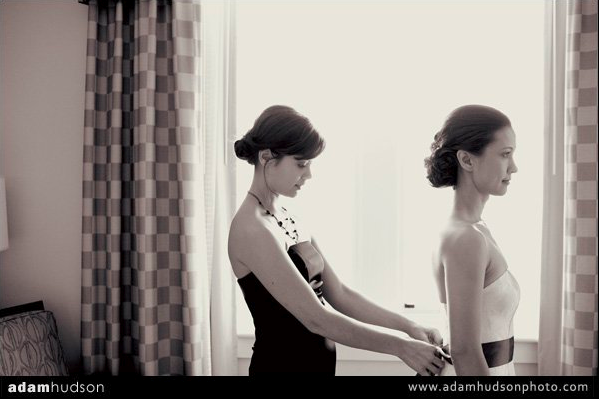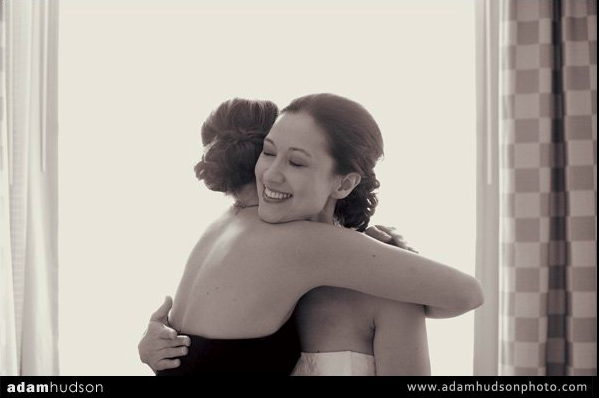 Adam and Allison swept me away for pictures, starting with their signature "first look" shots. It's their policy to break tradition and let the groom see the bride before the wedding, so they can capture the couple first seeing each other dressed for the wedding. They led me right outside the hotel onto Mill Street, where I saw Darren dressed in his new black suit, his back to me. Adam and Allison snapped photos as I snuck up on him and tapped him on the shoulder so he turned around. "You look great!" I said, grinning, and he replied, "YOU look great."
Looking at Darren in his suit and me in my white dress, I realized, "Wow, we're really doing this." People passing by on the street smiled at us as we posed for pictures. Adam waited for the wind to catch my red satin sash and unfurl it behind me, and he captured the moment in what became one of my favorite photos. The weather had been stormy a couple of nights before, but it was now a breezy 70 degrees.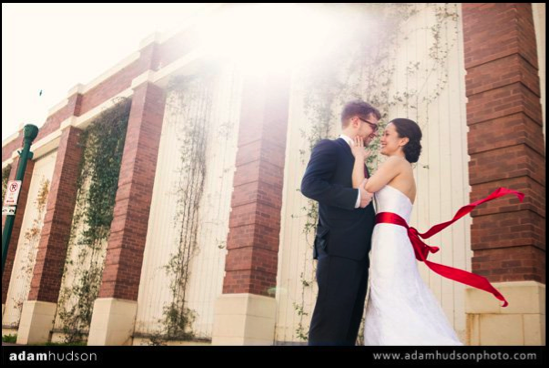 One of the best things about our venue, Union Station, was its convenience. Directly across the street from the King Edward hotel, the brick building is split into a functioning Amtrak station and a banquet hall. The ceremony would take place in the sunny foyer, followed by a reception right through the double doors. Our talented caterer and florist, Wendy Putt, was already setting up the space with her crew.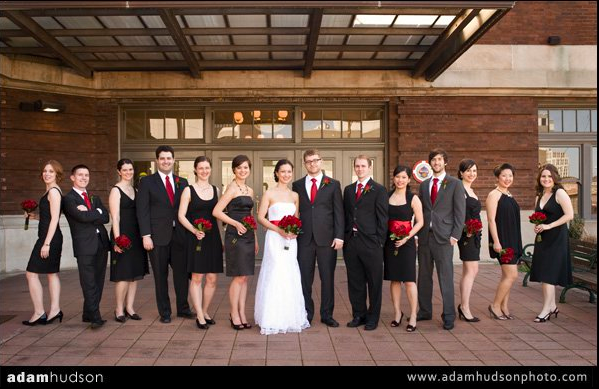 Darren's extended family and mine met in front of Union Station to take pictures in every permutation: Darren and me with my parents, then with his parents. Me with each one of my bridesmaids, then the whole group. Taking a cue from Darren, I started barking out orders (in the nicest way possible) like, "Mau family!" "Dickers and Hamiltons!" and shuffling people in and out of the frame.
The Hudsons created one of the coolest shots inside the train depot, where the wedding party arranged themselves in various poses on the wooden benches and then turned to smile at me and Darren. The wedding party looked classy, each bridesmaid wearing her own black dress and each groomsmen wearing his own dark suit. We'd planned it that way so our friends could wear something they already owned or buy something they'd wear again. The red rose bouquets and boutonnieres looked striking against the black background.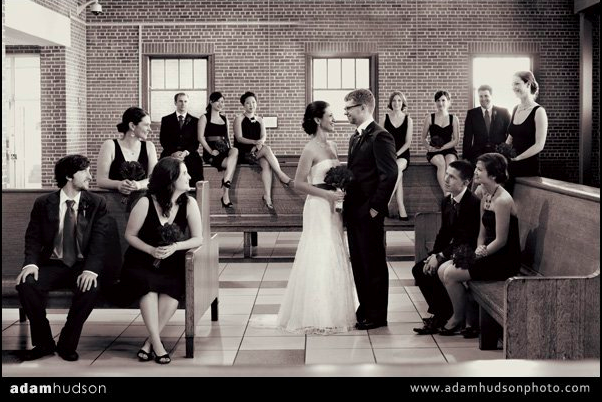 Finally, pictures were done, and we all had a little breather before the ceremony began. The wedding party, minus Darren and his brothers/Best Men, clustered in the lobby that separated the depot from the wedding space. Janet Lee, our day-of event coordinator, bustled around answering questions, offering tissues, and lining up the wedding party in the order they would process up the aisle at 4:30 pm. And then, just like that, it was go time.
Tags: hair · makeup · photography3 Comments