This post picks up where "Gearing Up to Get Hitched" left off.
The wedding party, my parents, and I were lined up in the room adjacent to the Union Station foyer, ready to process up the aisle. I heard the opening bars of "Somewhere Over the Rainbow." The wedding was beginning. Darren's and my dear friends Jamie Weems and Johnny Bertram, two of the most talented musicians in Jackson (and really, anywhere), were playing an instrumental version of the song on mandolin and guitar. Janet Lee, the day-of event coordinator, had lined up members of the wedding party single-file — girl, boy, girl, boy — and gently nudged each when it was time for them to walk between the two white wooden partitions and up the aisle.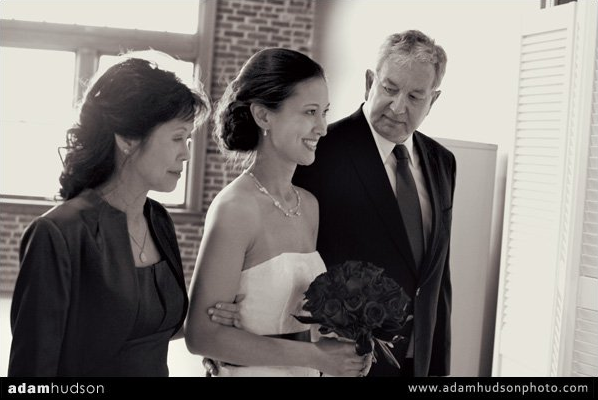 My parents linked arms with me, my six-foot-two dad on my left and my five-foot-two mom on my right. They smiled at me as we inched forward, watching my bridesmaids and Darren's groomsmen leave one by one. Janet gestured to us to approach her. We waited for a few moments until Jamie and Johnny ended the opening song, paused, and began to play "Sea of Love." The guests stood and turned to face my parents and me. Suddenly, I got butterflies in my stomach. This was really happening! Janet gave us our cue, and we began walking slowly up the aisle.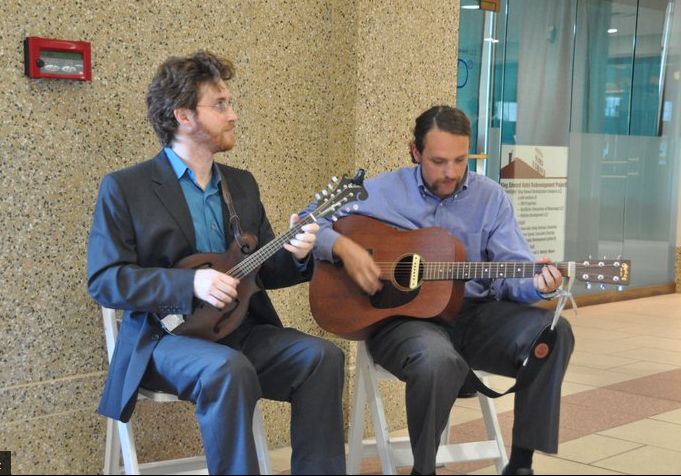 I couldn't stop grinning as I swept my gaze from row to row, looking as many guests in the eye as possible. I saw my Chinese cousins and their parents, who had flown in from Maryland; my Dad's side of the family from California; my coworkers from around the country; Darren's college classmates; his extended family on his mom's side and his dad's; and our closest friends from Jackson, the Bay Area, and a few other places. I felt an overwhelming sense of love emanating from all of these people, and a deep gratitude that they had come from near and far to celebrate my marriage. I knew that this was a once-in-a-lifetime experience, this convening of loved ones from each phase of my life, and I savored every moment of it.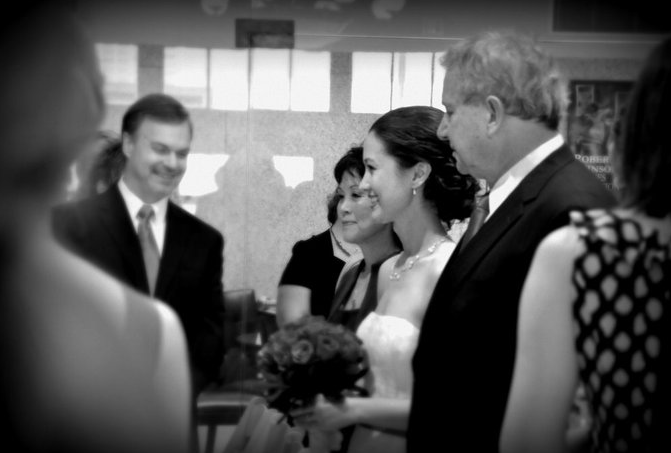 As my parents and I approached the front of the aisle, I turned my attention straight ahead. Darren was facing me, smiling, with his brothers on one side and our officiants, David and Debo Dykes, on the other. Darren and the officiants stood under the incredibly beautiful bottle tree arbor that our friend Stephanie Dwyer had created for the wedding, its iron tendrils curling up toward the ceiling. "Darren" and "Melia" were engraved in its leaves.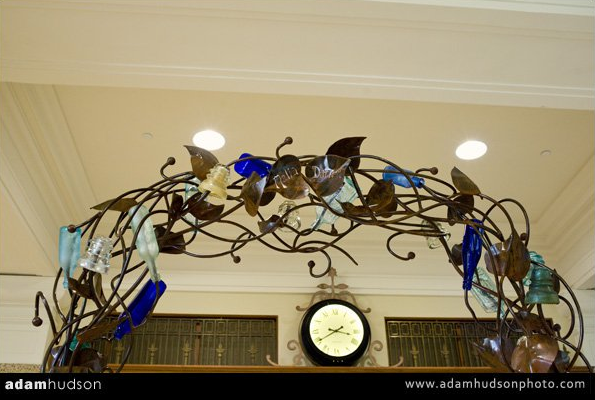 I felt grateful that I'd already cried at the rehearsal so I wouldn't be a hot mess when all eyes were on me. I turned to hug my dad and my mom, and they took their seats as I approached Darren and took his hand. We smiled at each other, with a look that said, "Wow, we're really doing this!"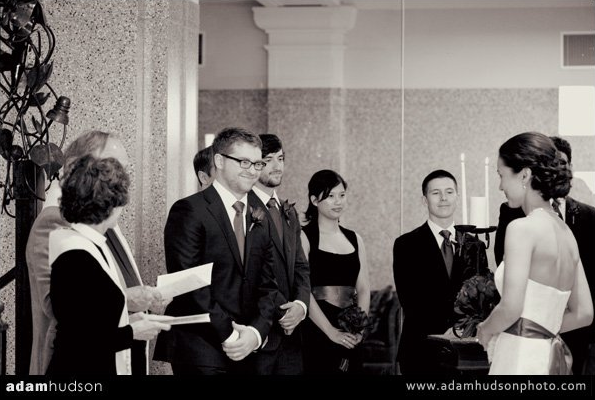 David and Debo, a long-married couple who are both clients and friends and also happen to be ordained ministers (Methodist and Episcopal, respectively), said, "Welcome to you all. Melia and Darren wish to welcome you with these words." Darren's mom, Jill, stood and read a poem, "To Love Is Not to Possess," by James Kavanaugh. Among the stanzas was this:
Love only endures when it moves like waves,
Receding and returning gently or passionately,
Or moving lovingly like the tide
In the moon's own predictable harmony.
David and Debo then asked for the declaration of consent, which precedes the actual vows. They asked if we would love and comfort each other, keep each other in sickness and in health, and be faithful to one another. "I will," each of us said. The officiants turned to each of our families. "To Melia's family, will you accept Darren as part of your family and support this marriage?" They replied, "We will."
My mom stood and read my favorite Pablo Neruda sonnet, XVII. It ends:
I love you without knowing how, or when, or from where.
I love you straightforwardly, without complexities or pride;
so I love you because I know no other way
than this: where I does not exist, nor you,
so close that your hand on my chest is my hand,
so close that your eyes close as I fall asleep.
After Jamie and Johnny played a lovely instrumental interlude of "Simple Gifts," David and Debo gave a brief homily. They said:
We wish for Melia and Darren the kind of love that is generous of spirit when nerves are frayed, energies depleted, and life's pressures and burdens are intense and heavy. We're wishing for them love that gives comfort and assurance when every other energy and resource is spent. We're wishing them love that rejoices in truth and nurtures the courage to spea kthe truth to each other always.
Toward the end of the homily, they gave this advice:
Be unwilling to give up love and hope and joy! Insist on sharing your thoughts and feelings and dreams; your frustrations and difficulties, together. Be bold in risking the truth. Be vigilant in your honesty. Trust beyond common sense. Don't fix each other. You can't! Don't reform each other. You won't. Don't perfect each other. You never will. You can only love each other.
Then came the vows. David began to speak, and Debo nudged him and pointed to the program they were following. Apparently, it was her turn to speak. David deadpanned to the crowd, "Didn't you just say, 'Don't perfect each other'?" We all laughed, Debo most of all.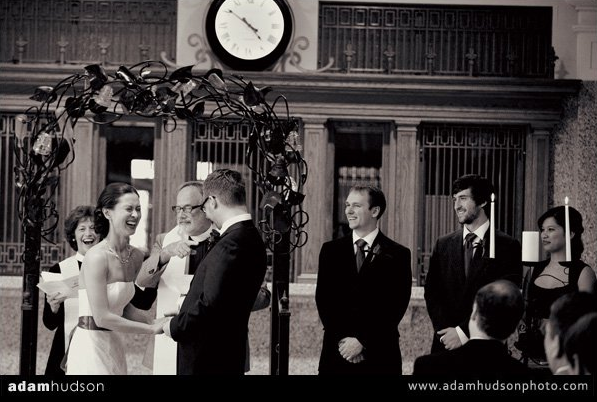 Given that the wedding was interfaith and somewhat non-traditional, it was important to me to exchange traditional vows. I wanted the ceremony to feel sacred to us and our guests; I wanted it to be recognizable as a rite of passage. Darren and I faced each other and joined our hands. Repeating after the officiants, Darren said:
Melia, I take you to be my wife,
To have and to hold,
For better or for worse,
In sickness and in health,
To love and to cherish,
my constant friend,
my faithful partner,
As long as we both shall live.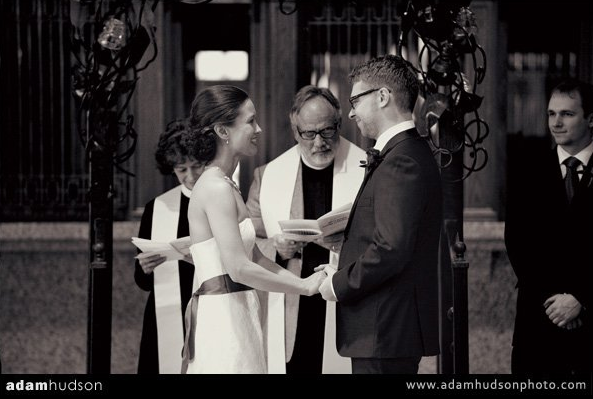 I spoke the same vows to Darren, making sure that I meant every word and understood the lifetime commitment that they signified. Darren's brother and Co-Best Man, Greg, presented the rings. Darren placed the simple gold band on my left ring finger and repeated after David:
Melia, wish all that I am, and all that I have, I give you this ring as a symbol of our vows.
I slipped Darren's silver band onto his ring finger and said those words back to him. Darren and I then stepped to the right side of the arbor to light the unity candle. Because our families are both Catholic, I had wanted to weave a Christian tradition into the ceremony. I liked the symbolism of two individual flames continuing to burn brightly but also creating a new flame together.
There had been one little glitch in the setup of the unity candle. The thick, red candle that I'd bought for the occasion had vanished into thin air (I suspect that it's still in the shopping cart at Target), so Darren had grabbed a large white candle from our house that we had burned more than a few times already. As we each dipped our lit taper candles toward the very low wick of the unity candle, Debo said, "This flame symbolizes your eternal love for each other. Never let the flame of your marriage go out."
At that moment, on cue, my flame went out. The wick was just too low to catch fire, and by turning my taper upside down, I had extinguished the flame. Everyone, Darren and I included, burst out laughing. Fortunately, Darren's taper was still lit and he rescued me by lighting mine again. I liked the symbolism of this spontaneous act: When one of us is down and out, the other will be there to replenish our spirits. The comic relief didn't undermine the sacred nature of the ceremony, but it did bring a cathartic feeling of lightness and ease into the room.
David and Debo concluded the ceremony with a marriage blessing, and then said to us:
Now you will feel no rain, For each of you will be shelter to the other. Now you will feel no cold, For each of you will be warmth to the other. Now there is no more loneliness, For each of you will be companion to the other. Go now, to enter into the days of your togetherness, And may your days be good and long upon the earth.
To the audience, Debo said:
Live without fear; protect and love one another. Go in peace to follow the good road, and live in the joy that you have been given.
We stood there for a moment, and Darren turned to David to ask, "Do we kiss now?" Clearly, he was waiting for the words, "You may kiss the bride." Before David could answer, I pulled Darren to me and said, "Just kiss me!" He obliged. The audience laughed and cheered.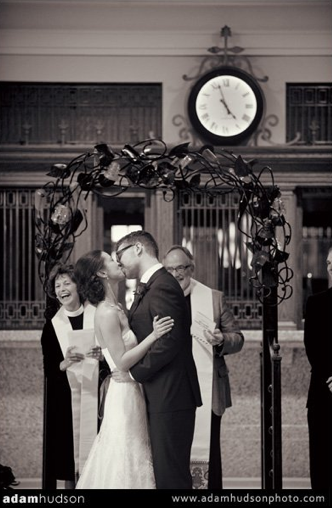 Darren and I turned to face our guests. Debo said, "I now present to you Darren Schwindaman and Melia Dicker." I'd decided to keep my name (for reasons that I share in another post), and while it didn't have the novelty of "Darren and Melia Schwindaman," it still felt great.
Everyone applauded, and Johnny and Jamie began playing one of our favorite songs, "Cinnamon" by the Long Winters. Darren and I walked down the center aisle together, smiling with every step, and I looked again at the faces of the people I loved the most. It was the most all-encompassing feeling of joy that I'd ever had in my life. We were married!